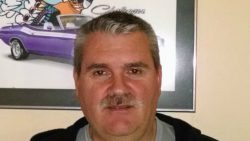 Hello, my name is John Chaney mopar enthusiast and owner of MoparRestorationParts.com.
My primary mission at MoparRestorationParts.com is to help you create the ultimate affordable muscle car of your dreams and have some fun along the way.
My goals are simple.
With the price of cars as high as they are and most parts even less affordable, I am going to show you ways of saving money using simple techniques that I use to restore many parts at home in my own garage.
I am going to show you what basic tools you should have and some more advanced tools that will save you even more money in the restoration process.
So, let's get that Classic Muscle car out of your dreams and into reality where the rubber meets the road.
Why am I doing this, it's really simple: "I just love Classic American Muscle Cars".
I can't seem to get enough of them. I am thankful at times that life in general has kept me grounded, like a career, one that helps me afford the parts and more Muscle cars.
My daughter who constantly needs things like cloths and new shoe (can you imagine that). And last but not least, my understanding wife who understands that I would spend our last dime on brake rotors and carburetors even though she doesn't have a clue as to what they are. (you can work this to your advantage)
How am I going to accomplish these goals?
I will be posting step by step guides and procedures that I use to restore the Muscle cars in my own garage.
I will have a comments and question section where readers will be able to share their own techniques and useful ideas and get answers to issues they may be facing.
I will also ask readers to share their first love affair (with a Muscle car). Most of us have a story to tell. Just pull up to any gas station with your car and you can get dozens of them.
I will also review the parts and products I use on the cars that I am currently restoring in my own garage. No arm chair quarterback here.
More about me.
My love affair with cars in general is in my blood. Even at 4 maybe 5 years old when I would get little toy cars from family as gifts. I am told that I would play with them for hours on end.
Fast forward that about 12 years or so to my first car purchase, my very own 6 cylinder 1966 Baby Blue Ford Mustang. It was an automatic with a red interior.  What can I say it was only $ 1500 at the time and it could go a whopping 85 miles per hour downhill with a tailwind.
 My next car was a 1969 Pontiac Firebird. It was also blue with a dark blue interior. I thought I would own this car forever. It was powered by a Pontiac 350 2 barrel and an automatic transmission.
Then came my decision to serve my country by joining the US Naval Submarine Service. My love of cars took a backseat to the love of my country. But this is America after all and after getting the bulk of my military training and qualifications finished my passion for American Muscle cars would not be denied.
I was all of 19 or 20 and I was in the yards in Kittery Main and my Submarine the USSN Billfish SS676 was getting an overhaul when one of my Shipmates posted his 70 Trans Am for sale on a board in our floating barracks, thinking this was a Pontiac and no Internet at the time I agreed to buy the car which was at his parent's house in Plainfield NJ. The rest of the story deserves a post of its own.
But what is important was that it was not a Pontiac at all. It was a 37,000 original mile 340 Six Pac T/A Challenger Pistol Grip 4 speed rally dash with an Am/FM radio three speaker dash, console car B5 blue with a black" gator" grain vinyl top not to mention the side exhaust and fiberglass hood.
Well that day I became a Mopar fan forever.  Who wouldn't have at that point.
My qualifications.
My passion for Muscle cars and particularly Mopars has led me to own more than my fair share of them, and to maintain them.
 I had to study them.  I would take factory repair manuals to sea with me while I was still in the Navy to study the wiring diagrams, engine building, suspension details, braking and almost anything and everything else within the pages.
I also started to disassemble and collect many parts and joined clubs where I found other like minded people. These experiences and my practical use of the knowledge I gained led me to build cars that have gained national attention, like the only real 71 Cuda Convertible found in the Nash Bridges series, the Car Craft 71 Curious Yellow Hemi Cuda and manage the operations of Ultimate Rids in TX, and ClassicIronCars in MN.
Although it has been a few years since these endeavors, I have not given up on my passion and have always maintained a couple of restorations of my own and assisted friends with their projects.
My Current Projects that will be documented in the posts and pages of MoparRestorationParts.com are a 1969 Plymouth Sport Satellite and a 1970 Plymouth Satellite. Both are convertibles and both will receive the Muscle car treatment. I recently added a 69 Sport Satellite hardtop to the herd as most of you will have hardtops and will relate more to the work performed on it.
So, let's get started on Your Muscle car!!!
 I am here to help in any way I can whether it is a question about parts, procedures, girlfriends or how to get your wife on board, so bring them all.
Most importantly in a time when so many of the values and traditions we have come to love are being threatened, let's continue collectively to carry the torch and let's keep this love affair with American Muscle alive so that our children's children will know it as well.
Thank you for visiting me,
John, Founder of MoparRestorationPart.com
www.MoparRestorationParts.com
email: GTXJohnC@gmail.com
Disclaimer: MoparRestorationPart.com is not liable for any information or technique that is presented here and performed by anyone reading or viewing posts which results in harm or bodily injury.